Trikatu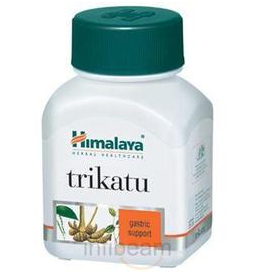 Trikatu
• Trikatu is an herbal compound of Indian Long Pepper, Black Pepper and Ginger.
• It is a safe digestive and carminative.
• Action: Trikatu is an herbal compound that provides a natural and safe support system for impaired gastric function associated with gaseous distension.
• Trikatu is a safe digestive, carminative, anti-flatulent and is effective in dyspepsia.
• It improves gastric function.Indications:Indigestion.
• Flatulence.
• Loss of appetite.
Trikatu 60caps
| | | | | |
| --- | --- | --- | --- | --- |
| Trikatu 1 bottle x 60caps ($28.65 per bottle) | | $28.65 | Add to Cart | |
| Trikatu 3 bottle x 60caps ($26.00 per bottle) | | $78.00 | Add to Cart | |
| Trikatu 5 bottle x 60caps ($23.68 per bottle) | | $118.40 | Add to Cart | |