Sunthi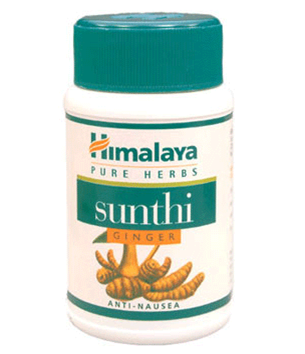 Sunthi
Buy Sunthi 60 caps, 'Sunthi' is also known as 'Ginger' is widely used as a gastrointestinal stimulant. Scientific name of Ginger is 'Zingiber Officinale Roscoe'. 'Sunthi' is a essentail herb in many ayurvedic medicines which are commonly used for indigestion, dysentery, vomiting and also used to strengthen the memory.
Benefits:
• Ginger acts as a powerful anti-oxidant agent, which is natural cure for all kind of diseases.
• Sunthi (Ginger) Himalaya herb is effective herbal medicine in the treatment of osteoarthritics, rheumatoid arthritis and joint pains as ginger has anti-inflammatory properties.
• It is natural remedy for colic pain, flatulence and indigestion.
• Sunthi Himalaya herb acts as a heart tonic that enhances the functioning of heart and reduces risk of heart disease and stroke.
• It acts as a anti-nauseant, helpful in nausea and vomiting.
• Sunthi (Ginger) Himalaya herbal product is effectively useful for common cold, cough, asthma, flu and other respiratory disorders.
• Ginger is valued in herbal medicine as a carminative and stimulant to the gastro-intestinal tract.
• It is natural supplement for healthy functioning of cardiovascular system.
• Sunthi (Ginger) Himalaya herbal remedy is aslo effective in fever, headache, and teeth problems.
Sunthi 60caps
| | | | | |
| --- | --- | --- | --- | --- |
| Sunthi 1 bottle x 60caps ($58.50 per bottle) | | $58.50 | Add to Cart | |
| Sunthi 3 bottle x 60caps ($55.70 per bottle) | | $167.10 | Add to Cart | |
| Sunthi 5 bottle x 60caps ($53.12 per bottle) | | $265.60 | Add to Cart | |