Sleep Well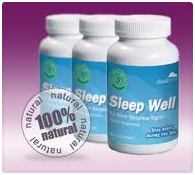 SleepWell
Buy Sleep Well is a natural herbal medicine. It helps to overcome sleep disorders such as insomnia and restlessness by facilitating the process of falling asleep and providing restful, deep sleep. Sleep Well contains proprietary blend of pure standardized extracts.
One Sleep Well bottle contains 40 pills.
The benefits of Sleep Well include:
• promotion of good disposition;
• relief of depression, anxiety and fear;
• mood swings get less severe;
• non-drowsy formula without any addictive potential;
• effective in patients suffering from depression and ailments that cause shaking.
Sleep Well, containing Nardostchya Jatamanshi and Ferula Narthex raw material, decreases irritability and generally leaves you feeling refreshed and more energetic on awaking. Patients suffering from regular night time disturbances, generally feel better, fall asleep easier, have a sound sleep and are therefore able to cope better with daily stresses.
| | | | | |
| --- | --- | --- | --- | --- |
| SleepWell 1 bottle/40 caps - 40mg ($47.00 per bottle) | | $47.00 | Add to Cart | |