Rumalaya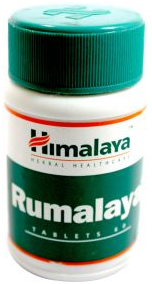 Rumalaya
Buy Rumalaya 60 caps tablet possesses analgesic and anti-arthritic properties. By regulating the mediators of inflammation, Rumalaya tablet exerts a significant anti-inflammatory activity.
• Strikes at the root of rheumatic disorders and restores freedom of movement
• Controls inflammation, reduces swelling and tenderness
• Relieves pain and restores mobility
• Promotes circulation by exerting vasodilatory effects
• Stimulates uric acid excretion and treats gout.
Rumalaya 60caps
| | | | | |
| --- | --- | --- | --- | --- |
| Rumalaya 1 bottle x 60caps ($19.00 per bottle) | | $19.00 | Add to Cart | |
| Rumalaya 2 bottle x 60caps ($16.95 per bottle) | | $33.90 | Add to Cart | |
| Rumalaya 3 bottle x 60caps ($16.33 per bottle) | | $49.00 | Add to Cart | |
| Rumalaya 5 bottle x 60caps ($13.80 per bottle) | | $69.00 | Add to Cart | |