Karela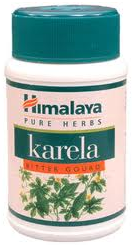 Karela
Botanical Name: MOMORDICA CHARANTIA
Family Name: CUCURBITACEAE
Common Name: BITTER MELON, BITTER GOURD, BALSAM PEAR, BALSAM APPLE, MELEGA SAGA

Buy Karela 60 caps is a Himalaya herbal product. It is a pure extract of Bitter Melon or Momordica Charantia herb. The herb extract possesses blood sugar normalizing properties and helps maintain normal glucose levels in the blood. Karela contains Gurmarin, a polypeptide similar to bovine insulin which has been shown to suppress neural response to sweet taste stimuli. It is rich in iron, beta carotene, calcium, potassium, vitamins B1, B2, B3 and vitamin C.

Benefits of Karela / Bitter Melon

• Karela promotes normal sugar levels in blood and urine
• Karela helps achieve positive sugar regulating effect by suppressing the neural response to sweet taste stimuli.
• Karela helps to support is a good blood purifier
• Karela a polypeptide which is similar to bovine insulin
• Karela promotes health of the pancreas
• Karela supports liver health
• Karela helps in digestion
• Karela promotes the body's natural metabolism
• Karela is considered to be a powerful detoxifier
• Karela helps maintain a normal level of triglycerides and cholesterol in the liver and blood.
• Karela helps support a normal immune system function.
Karela 60 caps
| | | | | |
| --- | --- | --- | --- | --- |
| Karela 1 bottle x 60 caps ($18.50 per bottle) | | $18.50 | Add to Cart | |
| Karela 5 bottle x 60 caps ($17.30 per bottle) | | $86.50 | Add to Cart | |